When first we write so randomly.*
Or something.

- I don't get why I'm having what amounts to a writer's block whenever I sit down to write a post here lately. I don't seem to have any problem writing in general - I just seem to have a problem writing what's on my mind.

- Maybe it's time for me to work on that post idea I've had lying around for awhile - tentatively titled "The limitations of transparency" - about the decisions we all make concerning how much we want to reveal of ourselves. Not just on blogs, in life! And do the boundaries we establish make us dishonest in our dealings with other people? When does choosing not reveal something about yourself become dishonesty? (I get a few more good ideas together on that one and I'll have a new "Meaning Of Life" post...)

- This weekend, I edited down about the first half-hour of what I expect to be a great new instructional video on Chi Sao demonstrated by my good friend and teacher, Sibok Rocco Ambrose. If you live in the metropolitan Detroit area and are interested in the finest training in self-defense and martial arts around, for yourself or your children, you need to check out Ambrose Academy.

- Later this month, The Girl and The Boy will celebrate their 20th and 18th birthdays, respectively. Good God, I am old.

- So Pamela (from the dayton time) emails me today. She started reading Life of Pi on Friday - and finished the d*mn book in a day. Who the h*ll has time to read a whole 400-page book in ONE DAY? Doesn't she realize the kind of pressure that puts on me?!?!
(Pamela, it's just a joke, sweetie. I don't want to cause trouble again just because I don't know how to write stuff so that it's funny...)

- I don't feel old.

- Did I mention that it's really cool when your kids get older and they're not home all the time and you don't have to wait until they're asleep to have sex?

- I'm not advocating that anyone has to wait until their kids are asleep to have sex (but that is pretty much how the Middle-Aged Woman rolls, if you know what mean). But when one of the parties whose cooperation is essential in these pursuits generally has difficulty staying up much beyond 9 pm... I'm just sayin' - absence makes the heart grow fonder.

- Other things may grow as well.

- Have you ever noticed how underused the word "engorged" is?

- Since becoming a freelance writer, the Middle-Aged Woman has been making a lunch for me to take to work every day and preparing many fine evening meals. Tonight, she had a little mishap with some pork chops (I'm not a big pork chop fan anyway - she likes them though) - and so I had to leap into the breach and salvage dinner tonight. And, though I don't like to brag, I think it's fair to say - that I buy make a mean Crispy Strip**.

Bon appétit!

Take care.


PS: Did I mention that you are supposed to visit Keely at the Un-Mom immediately.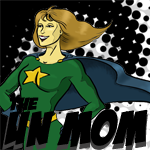 If not sooner.


* Apologies to Sir Walter Scott.
** "Crispy Strip" is a registered trademark of Kentucky Fried Chicken.