As of next week, I will have been doing this for a year. And when I say "doing this", I mean "having a blog" rather than "writing a blog"- cause my track record on the latter has been pretty weak since October*.



My dad has lung cancer. (If you read the Middle-Aged Woman, you probably know that already.) To be more precise (or maybe the word is "optimistic"), my dad HAD lung cancer - but the surgeons removed it - along with half of his left lung and some lymph nodes. (Hopefully Dad will cut me some slack on this egregious HIPAA violation...) He was released from the hospital yesterday - the fifth day following surgery! That was good news - but rather a surprise, since he thought he would be in the hospital for a week to ten days. I am expecting to visit him in Dayton again this coming weekend - if the Lord's willing and the creek don't rise.



I had every intention of completing my mini-reviews of the last three films viewed as part of The Plan (The Blind Side, Avatar, and The Last Station - which were all good, by the way) but as more time has passed since the Oscar telecast, I wonder if anyone is still interested. I may do it for my own strange reasons, of course - but my motivation has not been good lately.



I bought a large TV last week. (If you read the MAW, you know that already too.) I really do owe debt of gratitude to Larry at OneCall for his consideration regarding the purchase. Amazon advertised an incorrect price for the TV - and I was the only person on the planet to place an order for that item during the few minutes that the erroneous pricing was in place. Larry and OneCall could have decided to nix the sale - but they decided to honor the advertised price despite the error. Once I take delivery on the set, I plan to do a more lengthy writeup on both the TV and OneCall to point out the excellent service they provided me - despite selling the TV at a loss.



As a result of buying the new TV and a Blu-Ray player to go with it, I'm planning to give my Roku player to my dad so he can stream Netflix movies and my Major League Baseball subscription to his TV. My Blu-Ray is able to stream Netflix, so I shouldn't need the Roku anymore.



I was the master of ceremonies at a fund-raiser on Sunday for the Joy-Southfield Community Development Corporation, an organization spearheaded by my church (Second Grace United Methodist) not quite 10 years ago. One of the major initiatives of the JSCDC was establishment of a free health clinic that was originally housed in our church and later moved to a new building constructed across the street. It was a wonderful occasion - and appropriate that our event should take place that Congress finally enacted comprehensive health care legislation. Plus I bought a nice bracelet for my wife at the silent auction.



Did I mention that my TV is currently in Fridley, Minnesota?
Take care.
PS: Go visit Keely at
the Un-Mom
willya?!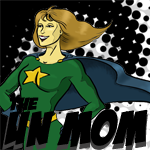 Please? Come on - do it for me. Do it for Keely!
* I should probably go all the way back to August. But I did hit (low) double-digits for my posts in October.