Yesterday, I claimed that I would be posting a review of The Hurt Locker today. But that was clearly b*llsh*t - 'cause you can look as hard as you want and you won't find any review of that film here today.



I'm beginning to realize that, whenever I think that I'm getting caught up with all the things I need to do, it's just because I've conveniently forgotten a bunch of stuff.



I really did intend to write a review of The Hurt Locker for today. I don't want you to think that I planned all along to disappoint you. I had good intentions.



I gave blood this morning. I have O Negative blood (anyone can use it) so I'm very popular with the Red Cross (and bleeding people everywhere). I was once told that my blood is so "clean" (free from contaminants / antibodies that wouldn't be harmful to adults - but would cause problems for children) it can be given to infants.



I promise that I'm going to write a review of The Hurt Locker very soon - maybe even tonight.



I had planned to write a blog post last night - but I'm on-call this week. So I spent nearly two hours on the phone trying to help someone with remote access to our company network after they went out and purchased a new laptop with Windows 7 that wasn't being cooperative.



Did I mention that I have really good veins? For giving blood, I mean. All the Red Cross workers compliment me on my veins.



Look - I'm sorry about The Hurt Locker review thing, alright?! Give me a break!



The MAW told me last night she has a job interview of Friday (this was quite unexpected). I'm probably not supposed to mention anything about it here - because she may be writing about all that on her blog soon. But I guess it's too late 'cause I already mentioned it.



I don't have a job interview this week.



But I am planning to write a review of The Hurt Locker. In case that is of interest to you.
Take care.
PS: Go visit Keely at
the Un-Mom
willya?!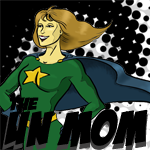 Please? Come on - do it for me. Do it for Keely!