- My lovely wife (the Middle-Aged Woman) has a pretty open schedule lately, so she took pity on me and went shopping. For me. You see, all but one of the 4 pairs of pants that I wear to work had...problems. The ravages of age and excessive wear had taken their toll, so she went in search of a bargain on some new pants for me (this being an unbudgeted expense and all). And she was wildly successful! I think she found 4 pairs for about $80.

There was just one catch: two of them were "Fatty" pants.

You know, the kind where the waistband of the pants has some "give" to it. But these two pair don't just have an "elas-ticky" waistband - there seem to be different panels of fabric at the waist that will adjust based on just how fat you happen to be. These are pants that will make getting fat easier - by quickly adjusting to any new girth, so there is no warning sign of your trousers getting snug. (The b*stards!) What will these fiends think of next?!

- Little chocolate donuts are just delicious. I think a new food group should be created just for them. I would call it the "So d@mn delicious if you eat the last one I'll kick your @$" food group.

- Do you think I should be concerned that wife is reading a book titled "Marrying George Clooney"?

- I don't know why, but sometime in the last couple weeks, the MAW stopped putting my sandwiches into plastic sandwich bags and started wrapping them in waxed paper. I wonder if she's taken a principled stand against sandwich bags. If so, I probably need to tell her that the wax paper seems to create a larger amount of waste than the sandwich bags.

- Maybe my sandwiches are just too big to fit in the bags. Maybe she thinks I'm eating too much.

- Maybe the whole "Fatty" pants thing is supposed to send me a message: "Hey, Fatso!! Why don't you just stop scarfing down all the little chocolate donuts!!!"

- Do you ever just scare yourself sometimes. Happened to me.

- Just now.

- I have a $200 cell phone bill this month. Why is my cell phone bill $200 this month?

- Do you think these pants make me look...insane?

Take care.


PS: Did I mention that you are supposed to visit Keely at the Un-Mom immediately.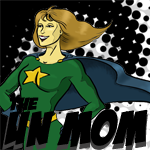 If not sooner.

PPS: Don't forget to visit He Read/She Read tomorrow and check out the reviews of Yann Martel's Life of Pi by the delightful Pamela (from the dayton time) and Yours Truly (from right herely) . You won't want to miss that!