Waiting a month and a half between posts really provides a lot of material. I should have enough stuff saved up to post every day for...a month and a half (I guess). Don't hold your breath on that one.
The last of our six performances of The Odd Couple took place Sunday afternoon. It was great fun and I will miss the opportunity to perform with and for friends. The cast party at our house following the show was cool too. I wish you coulda been there.
The MAW gave me a birthday/anniversary present on Jan. 21. She found a source who provided a 5-DVD set of the short-lived TV series, Frank's Place. My favorite episode was a 22-minute reimagining of Death of A Salesman. I have a special prize for anyone who remembers the month/day of my birth and my marriage (the usual disclaimers for family members, etc. apply to this contest).



Almost exactly one month before opening night of The Odd Couple, I was diagnosed with bronchitis. "No sweat", thought I. "I've got a month to kick this thing." Two 10-day courses of antibiotics later, I had kicked it. Then, less than five days before opening night, I got the stomach flu. Because being the lead in a play isn't exciting enough all on its own.



I resigned as President of the Motor City Youth Theatre Board recently. It really makes the MAW happy when I quit stuff. She would have me believe that my doing less would result in more sex - but I don't think she can back up that claim. ("Back up" that claim - did I really write that?!)



I wish you could have seen what fantastic work the MAW did with props and set dressing for The Odd Couple. In fact, I will make sure that you do see it - once I get a hold of some of the pictures from the show (there are literally hundreds on Shutterfly). The stamina and tenacity she exhibited made me proud.



I saw the film, Up In The Air, twice in January. I'm rooting for it to win the Best Picture Oscar this year.



The role of Oscar Madison has 456 lines in The Odd Couple (lines could be anything from a couple of words to a paragraph long monologue). The play has three acts (although we performed it as two) and lasts about two hours. Oscar is on-stage for all but about 5 minutes of that time. I'd rather play Oscar Madison again than Hamlet (wait - I've never played Hamlet; I'd still rather play Oscar again).



I enjoy being busy - but the thought occurred to me tonight (for the first time ever) that part of my desire to be busy is so I don't have to think about the things in my life over which I have no control. And having both an acute and (I believe) realistic view of the things over which I have no control doesn't make things any easier.

It's not much of a post - but hopefully it'll do until something better comes along.
Take care.
PS: Go visit Keely at
the Un-Mom
willya?!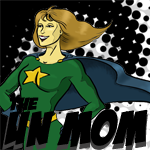 Tell her you were honoring the request of Jim Styro - actor, eater, blogger.